Screw and Barrel:
38CrMoAl, Nitrogen, Bimetallic
Application:
Rigid/Film PP PE
Degassing:
2( One Vacuum, One Natural)
Pelletizing Way:
Water-Ring Hot Die
Delivery Time:
45 Working Days
Agglomerator:
with Compactor
Transport Package:
Film Packing and Wood Base or Wood Case
Specification:
pellets size Φ 2.5*3mm
Origin:
Zhangjiagang City
 
Single screw extruder film recycling pelletizing line,Waste BOPP film recycling granulation machine,Waste agricultural film recycling granulation line,Wast film recycling pelletizing machine,Water-ring hot die LDPE film granulation machine HDPE film pelletizing machinery with vertical water-ring hot die face pelletizing way. It also can do with horizontal water-ring hot die face pelletizing way and wind cooling die face pelletizing way to meet the requirement of different material. 
Material is cut,pre-dried,pre-heated,pre-homogenized and compacted in the shredding/compactor drum.
Many materials can be processed directly without need of the upstream pre-shredding,resulting in a dramatic reduction in operational costs.
Less power consumption cost per kilogram,high throughput,reduced floor space occupation and operator attendance
This line can be used to process wasted thermo plastics: 
such as PA, PP, PS, PE, EPE, EPS,PET,UPS,ABS Film etc.  Like agriculture film/farm film and big bag.
  
Different screw design can produce different plastics.This is for hard or differend kinds of film.
Material types:Woven bag,printed LDPE film,film(rolls,loose,bundled),agricultural film waste,foamed plastics(EPS) and fibre, 
 
Metal detector on the Belt conveyer
Customer can decide to install or not install metal detector on the belt. Metal detector can check the melt, if there is melt the detector will alarm and stop, peope chect out the melt and throw it way, and restart the belt conveyer again.

Machine detail parameter
Item NO.

Item name

Quantity

Power

1

Belt conveyor

1set

1.5kw

2

Φ100

/33 single screw extruder

1

set

75kw

3

Compactor

1 set

55kw

4

Hydraulic screen changer system

1 set

1.5kw

5

Water-ring die face cutting system

1 set

1.5kW

6

Chute

1 set

---

7

Centrifugal dryer

1set

5.5kw

8

Wind transmission system

1 set

3kw

9

Storage

Silo

1 set

---

10

Electric

al control box

1 set

---

The advantages of this machine
1. Highly efficent: the machine is automatic and with less power consumption.
2. Special screw design: We will design the screw up to customer different material and the material of screw and barrel can be 38CrMoAL or bimetallic.
5. no air in the pellets.
6. The machine wih long life.

The advantages of the compactor
1. Counter current technology
      Hight process stability thorugh improved material intake ensures constantly high output over a considerably broader temperature rang
       Higher flexibility and operational reliability with a variety of materials
       Increased throughputs with the same plant size for more productivity
2. Smart Start
       Remarkably easy operate thanks to logical, clearly structured and simplified handing and ultramodern ergonomiic touchscreen disply.
       Fewer buttons, more user-friendliness-thanks to high degree of automat on including extensive control packages.
       The right recipe for every application-saved processing paramerter can be loaded easily and conveniently from the recipe management system at the push of a button
3. Save
        Lower specific energy requirements thanks to a complete package featuring design and process engineering measures including the new direct drive for the extruder screw
        Lower production costs through optimised control technology and high-quality, energy-efficient components such as high-performance motors
        Additionally, the parctical energy dispaly on your operating panel gives you a constant overvies of eenergy consumption at all times, thus enabling you to take specific measures to optimise consumption
        Environmental protection


Poroduction layout



1.Belt conveyer                 2.Compactor           3.ML-85/30 single screw extruder
4.Hydraulic screen changer       5.Horizontal water-ring granulation system   
6.Chute                        7.Centrifugal dewatering
8. Vibration                     9. Wind transmission system
10.Silo storage

How the machine works
The material is feeding into the compactor/cutter(Customer can choose to use belt converyer,whole film traction device and so on), material is cut, mixed, heated,dried, pre-compacted and buffered in the compactor/cutter. Then the hot, pre-compracted material will be filled continuously into the tangentially connected extruder. This upto the Counter Current technology.

Then material is plasticised and degassed in the extruder screw, next the material will be plasticised and melt in the screw, with the help of screen changer, the dirty impurity will be filter, the clean material will go though the screen changer and into the pelletizing system

Machine line(HDPE, LDPE, LLDPE,PP woven bags, Â PVC film PET film.etc, all kinds of these material can be done by this machine)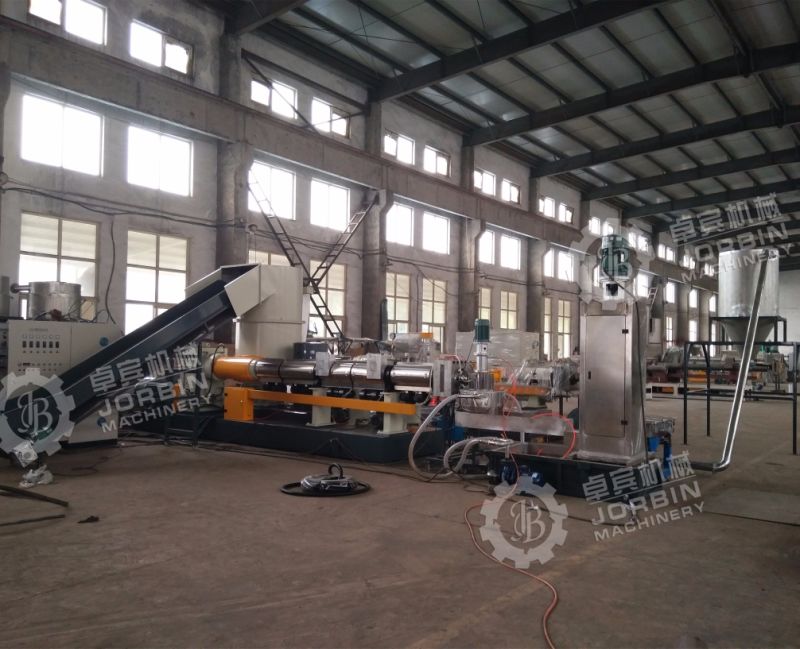 Belt conveyer: it will send the material into the compactor, if there is metal in the material , you can install one metal detector on the belt conveyer to check the materil
Belt material: PVC
Plank material: carbon steel,
Motor power:1.5kw
Width of conveyer: 500mm
Compactor cutter (with Counter current technology, more material can be send to the mouth of the screw feeder, then the machine capaicty will be much highr)
it works by the running of rotary cutter, stable cutter and the rotary cutter  cut the material and by friction the material will be compred. And with cutter base running the material can be better melt and flow into the extruder.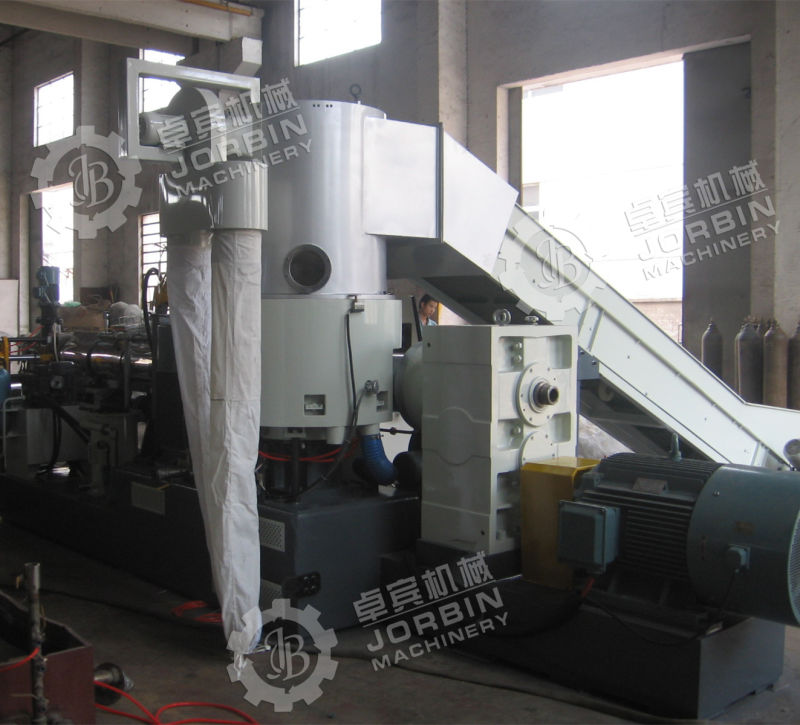 Material come though the screen changer and then come out from the die, water-ring hot die pelleting cut the material into pellets, then the material go into the chute, then Centrifugal dryer will dry the material, with the blower system, material can be instore in the silo. The screen changer diameter can be 200mm, 250mm,280mm,300mm,350mm, 400mm and other kinds, it upto customer requirement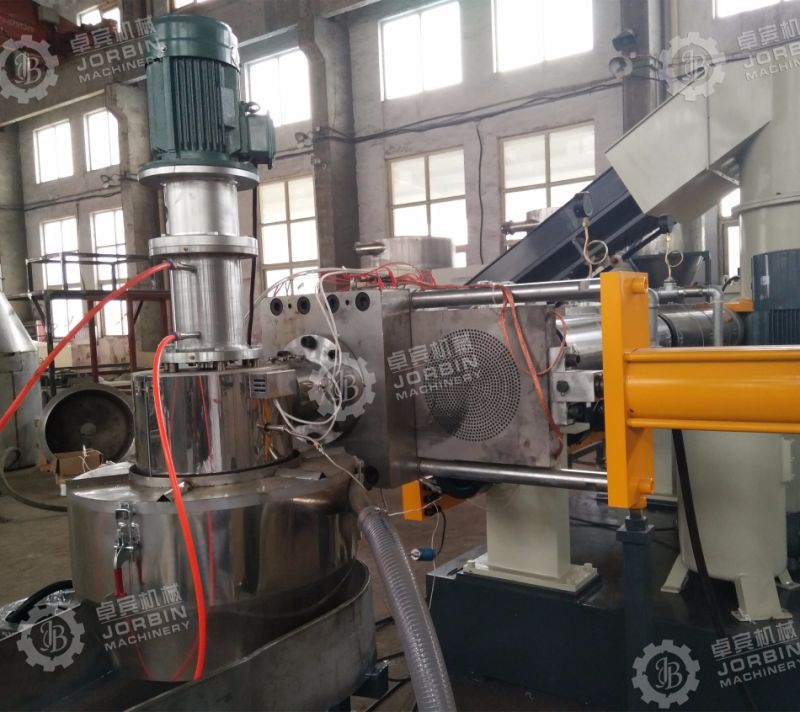 The Finall pellets of these water-ring pelleting way





Pameter of such kinds of machine
Type

L/D

Main power

Compactor power

Speed

Capacity(kg/h)

ML85

33

55KW

37kw

10-150

150-200

ML100

30/33

90KW

55kw

10-150

250-350

ML130

30/33

132KW

90KW

10-150

450-600

ML160

30/33

160KW

132KW

10-150

600-800

ML180

33/36

200KW

160KW

10-150

800-1000

ML200

33/36

250KW

200KW

10-150

1000-1200


 


1. We supply below necessary documents with the machine:
Machine layout

Electricity diagram

Machine certificate

General manual book/maintenance book
2. We provides one-year quality guarantee. During this period, if the machine's malfunction is approved to be our responsibility, we will send the broken spare parts to you with DHL courier or other way within 7 workdays after receiving the complainant. And send the technicians to the buyer's factory for maintaining. All charges are in our account.

3. After one year guarantee, If you need we can provides payable spare parts and technician's VISITING maintenance, and any broken spares we can send you soon as possible.

4. We trust that our quotation meets with your requirements and we will gladly furnish you with further information.

5. 24Hours service :Â Â Cell+86-13915707468
                             
Skip loader truck also called skip loader, skip loader vehicle, Skip Loader Garbage Truck, swing arm garbage truck, telescopic arm skip loader, multi skip loader truck, garbage delivery truck,skip waste truck for sale, is a garbage truck with detachable body container. Which could enable one truck with several garbage containers for recycle use, loop transportation, which can highly improve the work efficiency, also reduce the cost.
The skip loader truck is multi-functional used for garbage collection, transportation and self-discharging. Easy to operate and maintenance.
Material of the skip loader truck adopt of standard steel (carbon steel Q235 & Q345, also the Stainless steel can be choose) , against corrosion resistant, rust protection and well-resisting.
The skip loader truck could be equipped with a cover to prevent dropping any rubbish.
Skip Loader Garbage Truck
Skip Loader Garbage Truck, roll-off skip loaders, swing arm garbage truck,skip refuse truck,hook lift container truck, garbage truck with arm
CHENGLI SPECIAL AUTOMOBILE CO.,LTD , https://www.clwcntruck.com