On January 5, 2016, Allison Transmission Holdings Co., Ltd. (NYSE:ALSN) announced that the current Chief Financial Officer, David S. Graziosi, has risen to a new position and concurrently served as president of the company. The appointment will take effect immediately.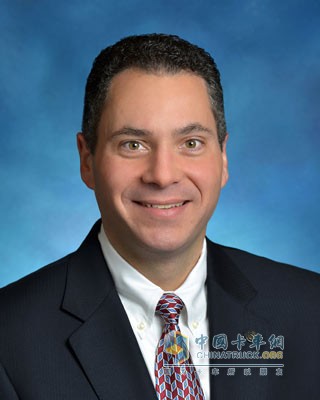 David Graziosi
Graziosi joined Allison in November 2007 as an executive vice president, chief financial officer, and accounting executive, shortly after the company was sold by General Motors to the Carlyle Group and Onex Corporation. Graziosi will continue its financial and accounting work, and the new position will give it more oversight tasks in other areas including operations and procurement, quality and reliability, legal/corporate affairs and corporate communications, internal audit, human resources, and information systems. service.
"In the company's milestone of success, given Dave's outstanding contributions and the important roles played, I am very pleased to appoint Dave as President of Allison Transmissions," Chairman of Allison Transmissions. And CEO Lawrence E. Dewey said so. "Dave joined the Allison Transmission Company formally in 2007 and demonstrated excellent leadership skills. At the same time, he has a thorough and comprehensive understanding of our company and the entire industry. As an important member of the executive management team, he I often work with my colleagues to solve work problems. I look forward to working closely with Dave in the future."
Graziosi said: "It's a great honour to be appointed President of Allison Transmission. In the past eight years, we have made a lot of important achievements. I believe we will continue to pass on Allison's 100-year history and continue to write a new chapter. I am very much looking forward to working closely with Larry and other members of the management team to create success in the new position."
David Graziosi Introduction
David Graziosi joined Allison Transmissions in November 2007 as an executive vice president, chief financial officer and accountant, and has been committed to his job-related work. Prior to joining Allison, Graziosi served as executive vice president and chief financial officer of Covalence Specialty Materials Corporation from 2006 to 2007. In addition, Graziosi has extensive career experience in the chemical industry, including the vice president of finance for the precursor and epoxy resins business at Hexion Specialty Chemicals Inc. from 2005 to 2006, and Resolution Performance Products from 2004 to 2005. Executive Vice President and Chief Financial Officer of LLC. Before that, he also served as Vice President and Chief Financial Officer of General Chemical Industrial Products Inc., Chief Financial Officer of GenTek Inc., and Director of Internal Audit and Corporate Assistant Finance Director of Sun Chemical Group BV. Graziosi is also a Certified Public Accountant and Certified Information Systems Auditor (non-practicing).
Graziosi received a Bachelor of Science degree in Business Economics from the State University of New York and an MBA in Finance from Rutgers University.
SMC WaterTank made of Fiberglass reinforced plastics which is divided in FRP Modular type and SMC combination type. The major advantage is light weight, antirusted, nonleakage, long durable time and easy to clean.It is widely used in hotel, school,hospital and coal mine enterprise.
What is SMC material?(SMC tank also called FRP,GRP Tank)
1. Sheet Molding Compound is a fiberreinforced material, which consists primarily of a thermosetting resin glass fiber.
2.SMC is a high tech material that is used in the manufacturing process in most of our products ranges.
3.The advantage of SMC include, high impact compressive, flexural and tensile strength along with temperature stability.
4.SMC has low profile, low shrink for excellent surface appearance and painting.it's color pigmentable and has excellent chemical and electrical resistance varied to provide insulation, conductivity or anti static properties.
SMC Water Tank Features and structure
1) Strong resistance to corrosion.
2) Reasonable structure design.
3) All welded on-site combination. High strength, good sealing, prevent secondary pollution of water quality.
4) Light weight, that is one half of ordinary steel plate Water Tank.
6) Clean, bright, beautiful appearance.
SMC Water Tank Panel size for your reference:
Water tank size: Can be made as your reuqest.
Panel size: 1mx1m, 0.5mx0.5m, 1mx0.5m
Wall board thickness: 5mm,8mm,10mm,12mm,14mm,16mm etc.
SMC Water Tank Accessories:
Grp Water Tank,GRP Tank,GRP Radar Water Tank,Underground Water Tank
Hebei Long Zhuo Trade Co., Ltd. , https://www.hblongzhuo.com