Recently, Cummins Turbo Technology Co., Ltd. held a grand celebration of its 60th anniversary. Holset Engineering Co., Ltd., the predecessor of Cummins Turbo Technology Co., Ltd., was founded in Huddersfield, England, on March 29, 1952. The company has a reputation for providing superior components and strategic technology solutions for diesel engines . . Relying on superior air treatment technologies, including bypass valve superchargers, secondary boosters, variable cross-section boosters, power turbines and emerging waste heat recovery technologies, Holset Turbochargers have dominated the commercial diesel market .
Cummins Turbo Technology Co., Ltd. merged with Cummins, Inc., headquartered in Columbus, Indiana, USA in 1973. After years of development, Cummins Turbo Technology Co., Ltd. has grown into a global technology leader with more than 3,000 employees and annual sales of up to 1 billion US dollars. The company has technology centers in the United Kingdom, China, the United States and India, and is committed to continuously improving its air treatment technology to provide global customers with different applications including road transport, commercial vehicles, construction machinery, construction, agriculture, marine and generators, etc. Technical solutions.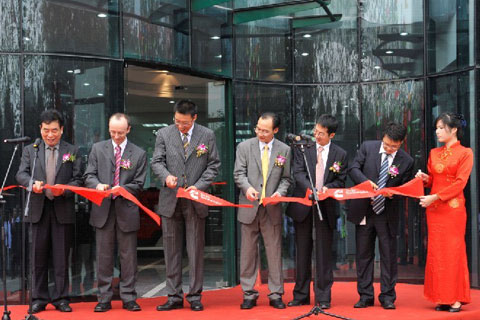 Wuxi Cummins Turbo Technology Co., Ltd. Opening Ceremony of the Ribbon Cutting Ceremony
Cummins Turbocharged Technology Co., Ltd. produced the first Holset turbocharger in China in 1982 with a license, and Wuxi Cummins Turbo Technology Co., Ltd. established a joint venture with Wuxi Power Engineering Co., Ltd. in 1996. After years of development, Wuxi Cummins Turbocharging Technology has become the leader in commercial vehicle superchargers with about 800 employees and annual sales of more than 1 million units, and has occupied nearly half of the market share in the medium and heavy power supercharger host supporting market. The small turbocharger also develops at a double-digit annual growth rate.
In recent years, Wuxi Cummins turbocharger technology has continuously increased its investment in technology research and development, and in 2011 it completed the transformation project for the second phase of the technology center. The technical center now has approximately 120 R&D and design personnel. The enhancement of engineering capabilities has enabled Wuxi Cummins turbocharger technology to develop domestic and overseas markets, and has become a solid foundation for customers' technical partners. The second phase of Wuxi Cummins Turbo Technology will begin construction in June 2012, at which time the company's production capacity will be doubled.
Tracy Embree, president of Cummins Turbo Technology Co., Ltd., said: "In the face of a new era of rapid global growth, brilliant history and experience will lead us to better face challenges and maintain our leading edge. We will We will continue to maintain our sincere cooperation with our customers, provide them with quality products and technologies, and will protect the environment and services and improve the community at the heart of our business."
Global Technology Leader
Over the past 60 years of development history, Cummins Turbo Technology has pioneered many new technologies. Major milestones include:
In 1986, turbocharger technology improved significantly in terms of efficiency, widening the flow cell patented technology increased the map width, and increased the compressor flow range by 20%.
In 1988, the introduction of the 3D Viscous Flow Analysis project reduced aerodynamic analysis from the original 13 weeks to less than a week.
The first European heavy-duty bypass valve supercharger was released in 1990 and put into production.
In 1990, Scania launched the first commercial supercharged supercharged engine, which added Holset's power turbine to the downstream of a conventional supercharger, resulting in a significant improvement in engine fuel consumption.
In 1998, the variable section supercharger HolsetVGTTM was released. Its sliding variable section structure can effectively reduce wear. This product matches the Iveco Cursor8 engine and is also the first batch of heavy-duty product batch applications for variable section turbochargers.
In 2009, the first turbo expander prototype was successfully developed for waste heat recovery systems. In 2011, the world's first waste heat recovery test bench was built in Huddersfield.
In 2010, new turbochargers with 2-6 liters of light diesel engines were released in Hanover, Germany and Beijing respectively.
Cholift supplys Various products of Hand Pallet Truck,Standard Pallet Truck,Scale Pallet Truck , Reel Pallet Truck ,Malfunctional Pallet Truck ,Specialty Pallet Truck,All forklift series are designed with excellent materialsto suit every intensive or light operation, we insist to provide high quality pallet truck series with competitive price to clients.
Scale Pallet Truck
Scale Pallet Truck,Manual Scale Pallet Truck,Pallet Truck With Scale,Scale Hand Pallet Truck
Ningbo Cholift Forklift Co.,Ltd , http://www.choliftchina.com